The subject of obi widths relative to a person's height recently came up on a forum I frequent. This is the result of my attempt at two different widths (15 and 18cm respectively, or 6″ and 7″) with a chuya obi: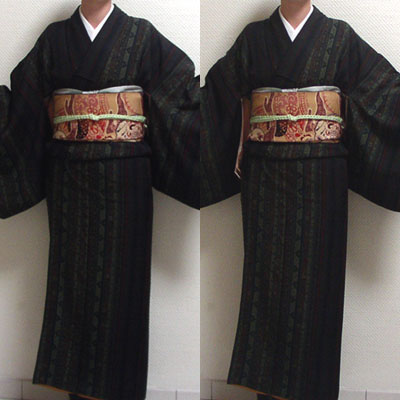 The idea is to find which proportions look best on a person. Normally 6″ is the proper width, however on taller women a wider obi can look better. I'm 180cm (just under 5'11"). And apologies for the bad lighting, my apartment is difficult that way.
A couple weeks ago I tried on a new hikifurisode that I got for a steal on ebay, with the fukuro obi tied very wide, just for experimentational fun: photo here. Only 3cm (1″) is folded under at the bottom. It came out looking a bit wrinkly due to the fact that the obi ita (stiff support) is only half that width, but makes for an interesting study in proportions. The obijime would need to be wider for it to look best, I think.