Joy, joy joy – three meisen and tsumugi kimono in my size (and in great condition) will soon arrive by post to be added to my collection.
I had to go to three different post offices in Nice just to find an IPMO form today, to send the seller. Would you believe there was only one form left in the last post office I visited? The first two simply had none left and didn't know when more would arrive. The effort was worth it, however, because while arriving at the last post office, I wound up behind a young mother with her cute two-year-old son, walking up the slick rain-covered stone stairs with great effort. The little boy saw me behind them and stuck his hand out. At first I just grinned and waved at him, but then he grabbed my hand! His mom looked at him wide-eyed, then said to me with an embarrassed look, "Oh! That silly boy, he always does this! Always!" Meanwhile her son happily steadied himself against the both of us and only let go of my hand once we reached the top of the stairs. Very outgoing young lad :)
Here are the three kimono: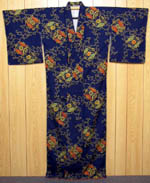 .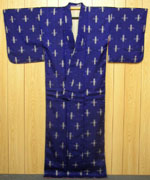 .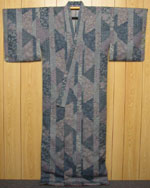 The first is a dyed tsumugi kimono, with a motif of fans and arabesques in batik style (not true batik, I think). The second is meisen with a large cross weave that looks very much like traditional kasuri, and the third is another tsumugi kimono with a dyed patchwork-like motif. The two tsumugi kimono have solid deep red hakkake (lower linings), whereas the meisen kimono has a solid dark pink lining. I love linings like that! All three kimono are really long – I have seen several beautiful Oshima tsumugi kimono for tall women on ebay in the last month, but all of them were snatched up by a Japanese ebayer with much deeper pockets than mine. It is nice to know they'll be worn in Japan, though! These two weren't labeled as tsumugi, so I suspect that's how I managed to win them. All three are from ebay seller ryujapan-99.