Kiku Embroidery Tsukesage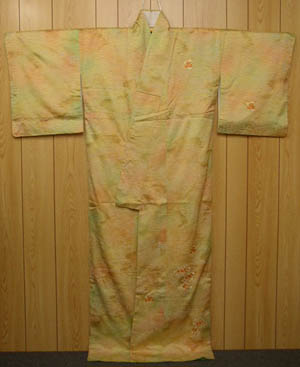 Front view, resembling how it looks when worn. While the embroidered chrysanthemums on the bottom front panel are difficult to see, you can make out the small designs on the upper chest and sleeve.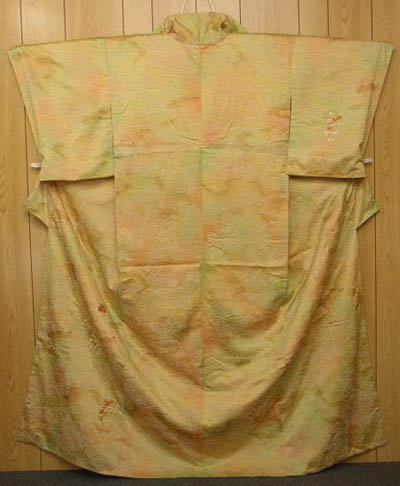 Back view with panels open, showing the overall motif and another embroidered design on the back right sleeve.
Closer view of the kimono's hem. At left is the front panel, at right is the back right panel (shows when worn).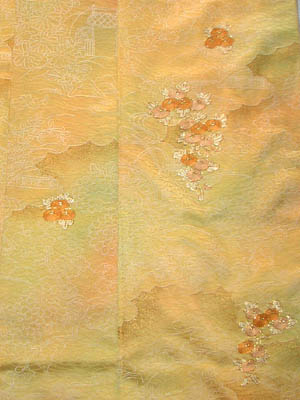 Here you can better see the embroidered chrysanthemums on the front panel, and just make out the clouds highlighted with gold leafing.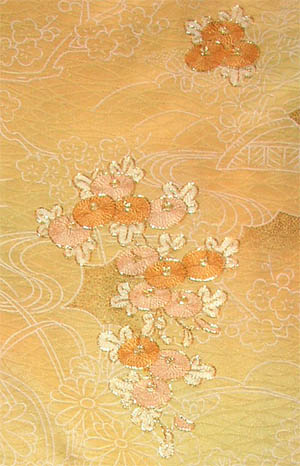 In this closeup of the large embroidery, the yuzen-dyed white motifs are finally visible. They cover the entire kimono.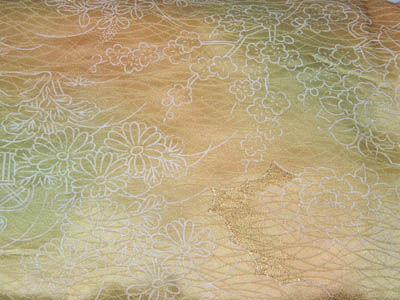 A larger photo of the white dyed designs, which include plum, chrysanthemum and peony blossoms (autumn and spring motifs - I'm not quite sure what a peony, spring motif, is doing on this very autumn kimono), as well as
hagi
(bush clover; one of the autumn grasses), bamboo garden gates, and a bridge over a stream. Not all of these are visible in this photo. The fabric's rinzu (jacquard) design is of bending grasses.