Autumn Karakusa Komon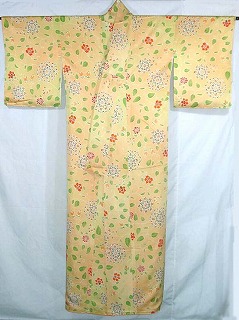 Front view, resembling how it looks when worn.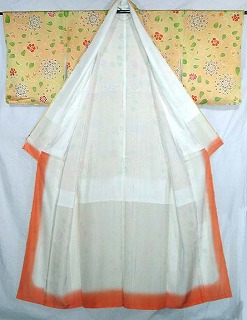 Front view with panels open, showing the dip-dyed silk lower lining. The colored lining is just barely visible when worn.
Photo of the kimono when folded, giving an overall view of the design and the orange lining (seen at the sleeves here). This photo shows the true colors and gradation somewhat better than the others.
Flowery arabesques (karakusa) galore.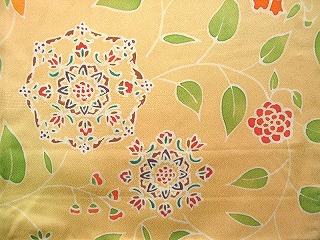 A closer view of the "karabana", imaginary flowers.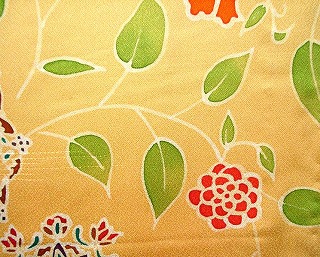 This closeup shows some detail of the delicate (Kaga?) yuzen arabesques.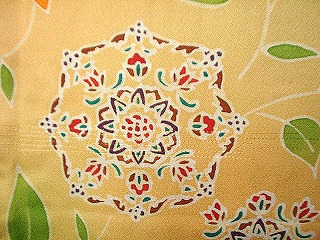 Detail of the larger karabana motif.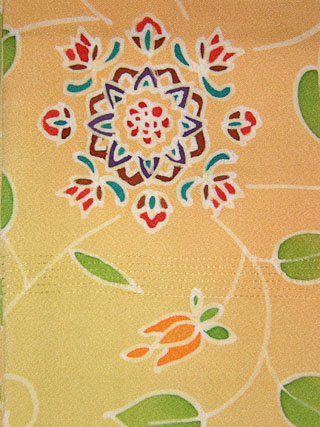 And of the smaller. As these are a little irregular from karabana to karabana, it seems that they were indeed all handpainted rather than stenciled.
Closeup of another arabesque flower.
This is the decorative embroidery-like weave that can be seen running through the larger karabana and other parts of the kimono. Perhaps it's meant to look like tsumugi (pongee)?