Gagaku Kurotomesode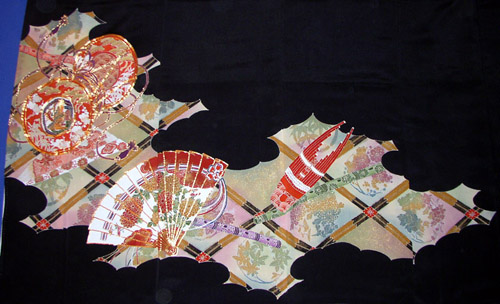 Pattern on the bottom hem. I wrote
this entry about the motif
, which suggests Heian ladies enjoying a concert of court music. In the background can be seen rondels with plum, chrysanthemum, bamboo, paulownia, maple and camellia, making for an autumn-winter kimono.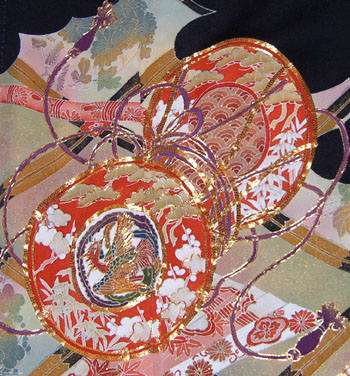 Closer view of the drum (kakko) on the front panel.
The open akomeougi (Heian lady's fan). A partially closed one is beneath the kakko in the previous photo. Both the akomeougi and kakko are outlined with two to four rows of gold couching.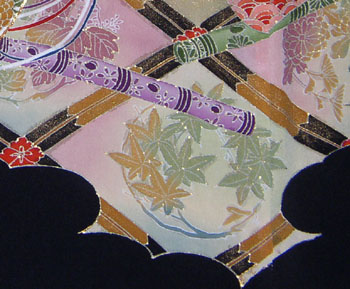 Closeup of the lovely yuzen dyed background.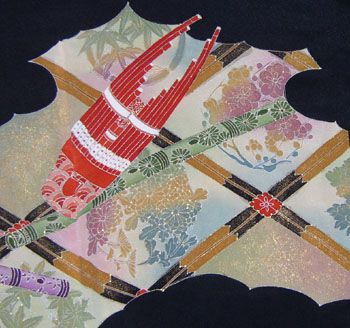 The sho (multi-pipe instrument that sounds like an alto-soprano organ) and flutes.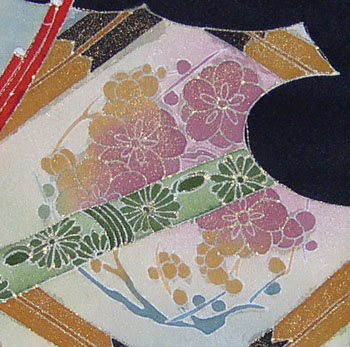 Closeup of the plum rondel near the sho. You can see that the starch resist (not completely rinsed, apparently?) has started to age and is seeping outside the original borders. Considering that the sleeves are also eight centimeters (3 inches) longer than on modern kimono and the couching is coming apart slightly, my theory is that it's from around the 1950s. It was obviously well taken care of by its previous owners. The double lining is clearly new and the collar shows evidence of having been adjusted for it. (A collar snap was hidden by the fact that the black collar was stitched closed to match the white inner collar, also stitched in the back.)