"Aka to Kuro": Butterfly and Plum Blossoms Furisode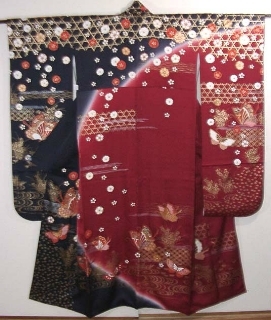 Back view with front panels open. The falling plum blossoms and butterflies make this furisode very elegant.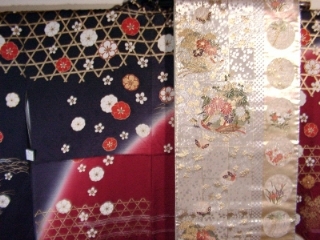 Upper back, with matching fukuro obi draped over right shoulder. The gold lattice design symbolizes the barrier between the outside world and ceremonial, "higher" world.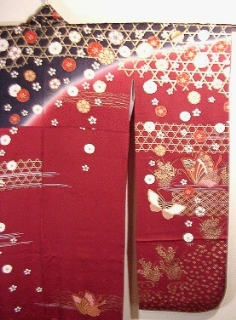 Upper back right. In Japan, the plum blossom evokes purity of character, hope and good fortune; it is the first flower to bloom in late winter.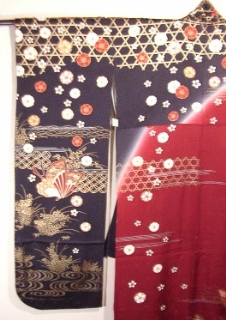 Upper back left. Often used to symbolize the soul in Japan, butterflies are also a symbol of spring and transformation. An old Japanese custom is to send a wedding gift of two large paper butterflies, symbolizing marital happiness.
Closeup of front right panel, which shows when worn. The white stripes are actually silver leafing, which represent clouds or fog, with gold leaf representations of bending grasses behind. Gold leaf swirls near the bottom illustrate water.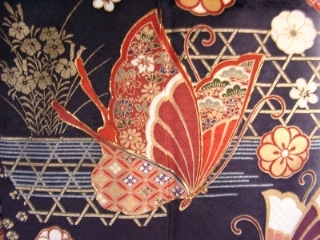 Detailed view of the large butterfly on the front panel, which is outlined in gold couching. The stenciled gold leaf flowers are all symbolic, the "seven autumn grasses" can be found throughout the design.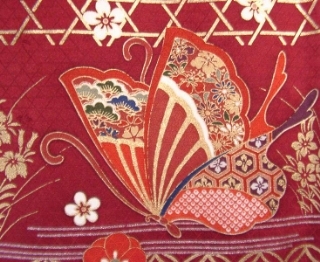 Closeup of the large butterfly on the back of the right sleeve. In this and most other butterflies, there are motifs of pine trees, chrysanthemums and stylized turtle shells, all very auspicious, symbolizing longevity, strength and dignity.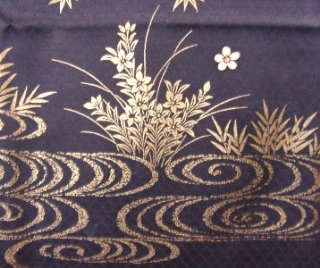 Bottom left sleeve, back. Detail of the stenciled gold leaf grasses and water.